OEGS Autumn Meeting – Cooden Beach GC, 19th September 2020
We played an 18 Hole Stableford competition for the Crosse Challenge Trophy from the yellow tees with full handicap allowance. Yet again for this event, the day was fine and sunny but with a 10 miles per hour breeze from the east. The easterly wind made the course more testing than in a prevailing westerly.
Chris Walker won the trophy with a superb 41 points, a gross 74 off a handicap of 7. The second best scores were 33 points from both Andrew Langlands and David Dunn. It was great to see two lady members competing, namely Iryna Photiou and Patricia Seath. They acquitted themselves very creditably with individual scores of 32 and 31 points respectively. The greens were noticeably quicker than usual, probably owing to the club championship being staged the same weekend. The course was mostly in good condition except for a few fairways having bare patches as a result of the exceptionally wet winter and the course's inherent challenges with drainage during those months. Positive comments on the day were received by the Match Manager from all OEGS participants.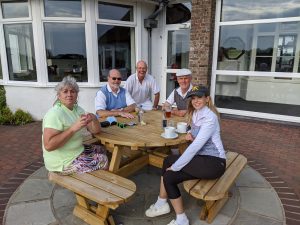 From left to right: Patricia Seath, David Wells, David Dunn, Tony Dunn, Iryna Photiou.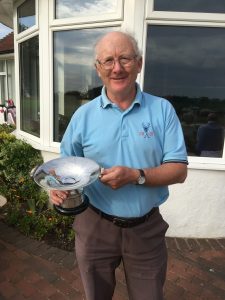 Chris Walker with the Crosse Challenge Trophy.