OEGS v UPPINGHAM MATCH REPORT 04.08.21
The 5th 'edition' of the Uppingham match was played on a glorious summer's day at North Hants GC which was in stunning condition. And the team's Big Match Temperament equalled the 'bigness' of the delicious pork schnitzel at lunch as we emerged victorious by 3 & 2 from five 4-ball matchplay games. We played off official Club HCPs adjusted to Course HCPs, ignoring further 'format allowance' adjustments.
Due to a late drop-out, Tony Dunn went out first on his own and won 2 & 1 with what the opposition described as impressive golf. Mark Winstanley and David Barwell paired up in the second game with David sinking a fine putt on the 18th green to clinch the game 1-Up. Bravo! Not to be outdone Uppingham bounced back in the 3rd game with a 1-Up win against John Maclean and Colin Farrant, but it could have gone either way. With renewed vigour Uppingham snatched the 4th game 1-Up with their Society Captain up against arguably our strongest pairing of Chris Walker and Piers Manktelow. Maybe next time Chris will arrive with metal clubs and more than four fingers on his right hand! But the best was left till last as Patricia Seath and Ian Henley stormed home with a 5 & 4 victory and the opposition looking a tad downcast. The non-playing OEGS match manager Jo Grey was as pleased as an Olympic coach! He was suffering from a painful nerve and so unable to play nerveless golf!
Everyone contributed to a most enjoyable day and we are pencilled in to build on this win again on Wednesday 27th July 2022.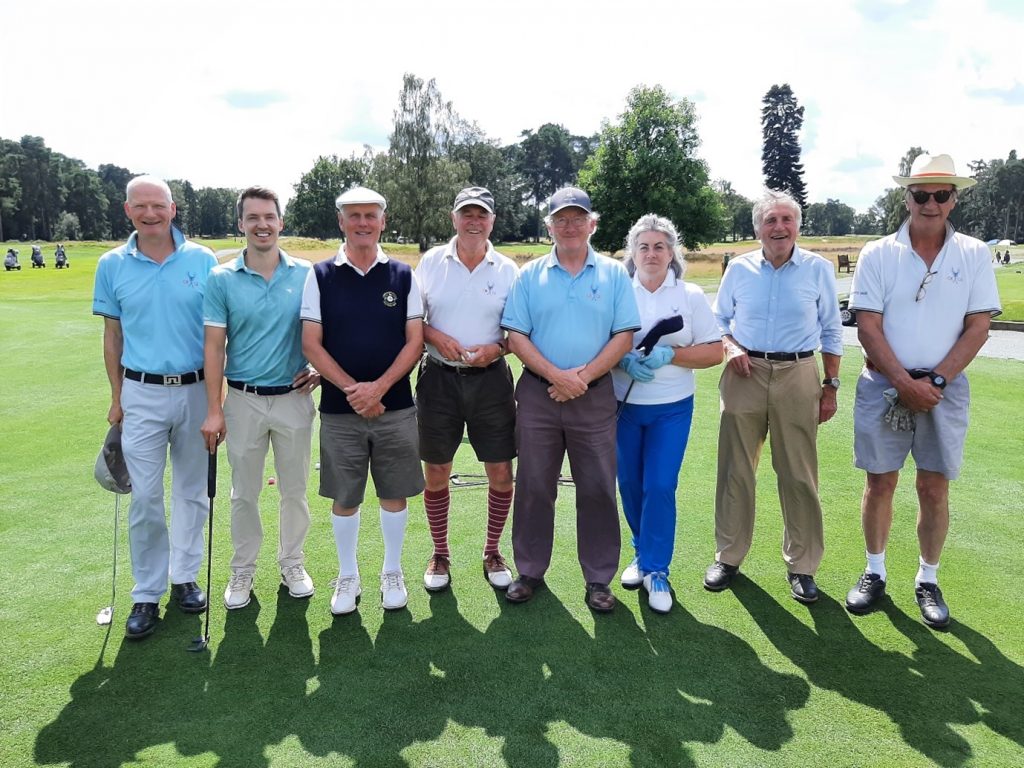 From left: David Barwell, Piers Manktelow, Tony Dunn, Mark Winstanley, Chris Walker, Patricia Seath, John Maclean, Colin Farrant. (Ed. Ian Henley – was in the loo!).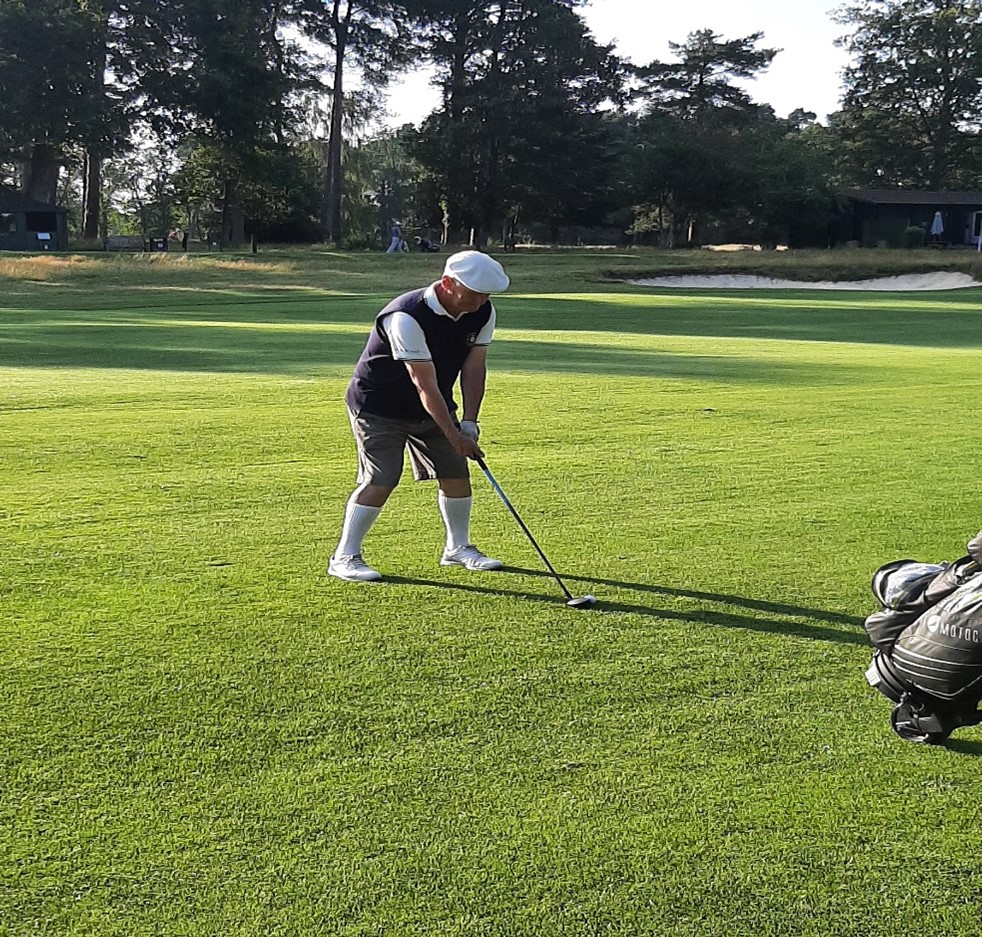 Tony – a lesson in the classic address position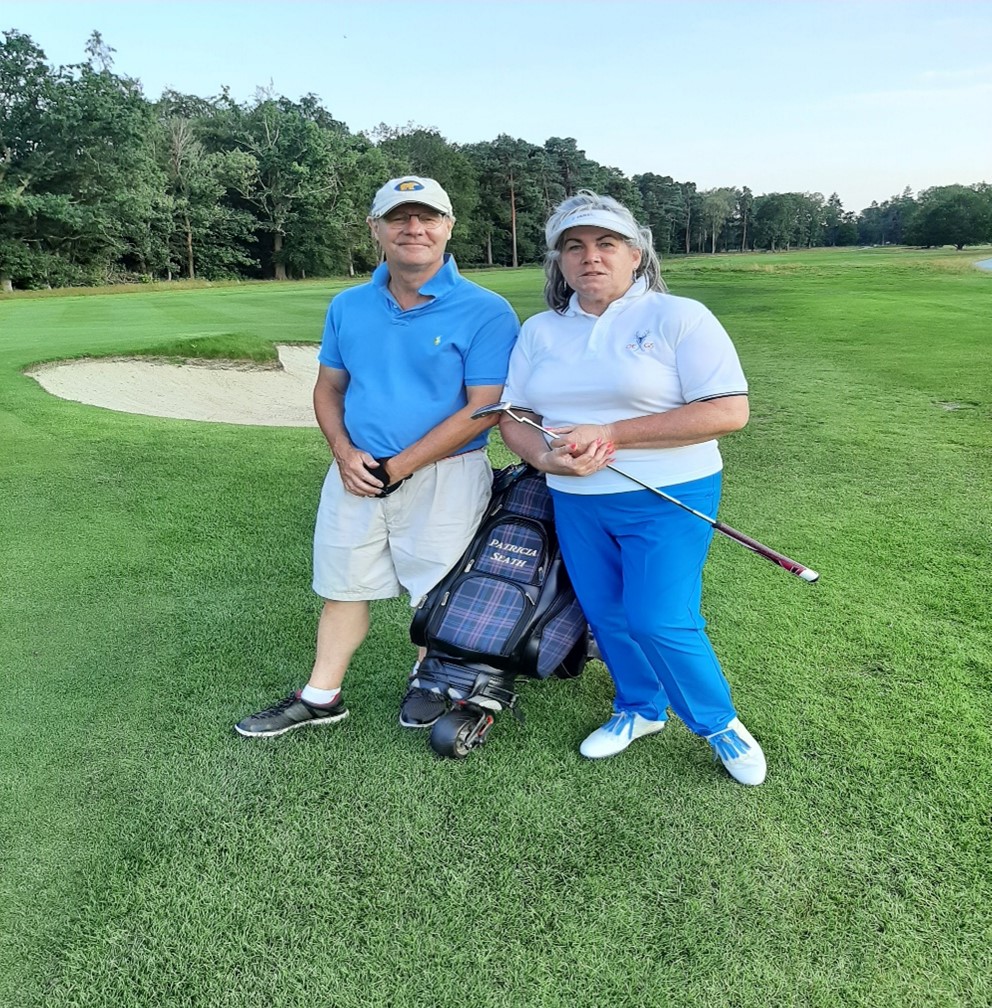 Ian (back from the loo!) and Patricia