OEs triumphant in UK hickory championships – Autumn 2020
Autumn 2020 has been an exceptionally successful time for OEs playing in hickory championships organised by the British Golf Collectors Society.  These are events played with wooden shafted golf clubs, all of which must date from before 1935.
Firstly, Ben Burrows won the Scottish Hickory Championship with a fine net 63 off a hickory handicap of 15 on a windy day at Kilspindie GC on 3rd September.
Secondly, and in even more challenging weather conditions, Chris Walker won the English Hickory Championship at Rye GC on 2nd October with 35 points off a hickory handicap of 13.  Ben also played well in this event with 33 points for joint second place.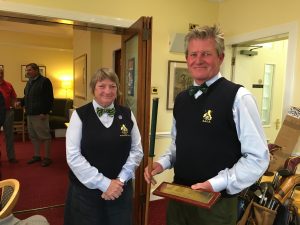 BGCS Captain, Carolyn Kirk with Ben Burrows at Kilspindie GC.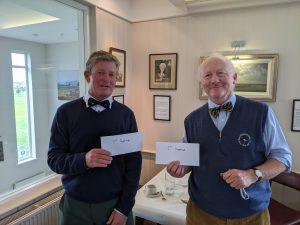 Ben Burrows and Chris Walker at Rye GC with their respective prizes.